Restaurant in Historic Downtown Lake City, Florida - Food, coffee, wifi, wine, beer, nightlife, music, art, books, & more!
About Us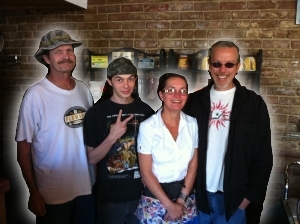 Although Larry and Tammy Ostrander (pronounced OH-strander) had met briefly around 20 years ago, it wasn't until they met again more recently at The Café that they really got to know each other...
Back then 281 North Marion Avenue was known as the Marion Street Café (MSc), and Larry was moonlighting there as manager & bartender, while doing political consulting during the day.
He and Tammy soon fell in love watching sunsets together in front of the MSc, and were married at Vilano Beach near St. Augustine a year later.

After the Marion Street Café closed in 2010, the building sat vacant for nearly a year until it was briefly rented to a bar called The Lion's Den in 2011. Known for its frequent drag shows, the Lion's Den went out of business in early 2012, leaving the building vacant and in disrepair.

Upon hearing the news, Larry and his family jumped at the chance to bring back the original café where they had fallen in love. Investing everything they had, and with the help of many friends, they were able to open her up again on October 1st, 2012. Many months of work went into recreating the atmosphere and environment we all found so appealing about the Marion Street Café - including its dedication to the arts, culture, and community, as well as delicious, affordable, and healthy food.
~ NRFSP Food Safety Manager Certification - Visit www.nrfsp.com for more info. ~
Larry & Tammy's son Robert is the head chef, as well as a part owner. He works full-time at The Café during the days, and attends night school in the evenings. Like Larry, Robert enjoys playing chess and is happy to take on a challenger when time permits.

Jeff Childress, also a part owner, is a Vietnam veteran who has been a dear friend of Larry's for many years. He is, and will always be, an important part of the Ostrander family. Back in the MSc days, he built much of the exisiting furnishings within the building, including both the front and back bars, as well as the stage.
The Ostrander family warmly welcomes you to find PEACE, LOVE, and HAPPINESS at The Café in Historic Downtown Lake City, Florida.