Restaurant in Historic Downtown Lake City, Florida - Food, coffee, wifi, wine, beer, nightlife, music, art, books, & more!
Introducing GreeNoodle
Healthy, natural, and delicious instant noodles!

Introducing GreeNoodle - the healthy, natural, and delicious instant noodles made from Moroheiya! Click here for brochure in pdf format
The word "instant" has always been associated with something rather poor in taste and bad for health, but from now it doesn't have to be. GreeNoodle, while being quick and easy to prepare, is a healthy, natural and delicious alternative to conventional instant noodles.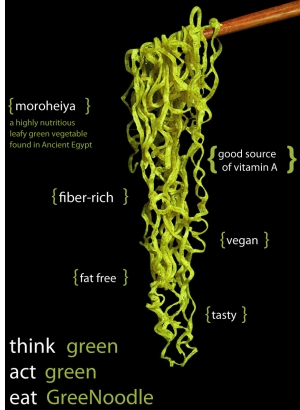 Healthy: GreeNoodles are made with unbleached and unprocessed wheat flour and organically grown and exceptionally nutritious moroheiya, a vegetable that contains a significant amounts of vitamins, minerals and dietary fibers. (One serving of noodles contains 32% of Daily Values of dietary fibers, 20% of vitamin A and more!)
Natural: GreeNoodles are air dried instead of being fried and have no added preservatives, food coloring, or MSG. They also do not contain egg or animal products and all soups are vegetarian.
Delicious: GreeNoodles have great taste and good chewy texture.
As a quick snack or as a part of a more complete meal, GreeNoodle makes it easy to add vegetables to your diet. Try it also with a salad or with a stir fry sauce!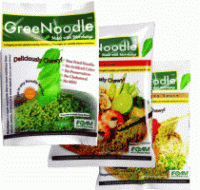 The Café is proud to be Lake City's first and only authorized distributor of healthy, natural, and delicious GreeNoodles! Please contact us or drop by for more info and to purchase.
We currently have the following flavors available: Japanese Style Shiitake Soup, Thai Style Thom Yum Soup, Yakisoba Style Noodles, Miso Soup.
Pricing is available on our menu page, and please inquire about volume discounts for bulk purchases.